團隊成員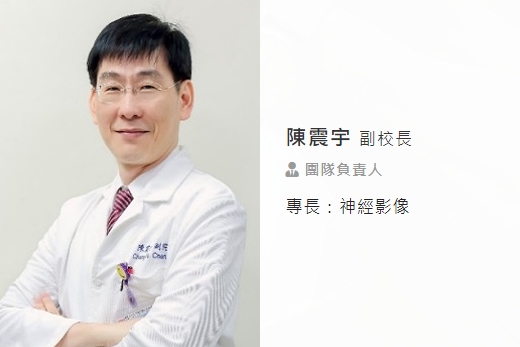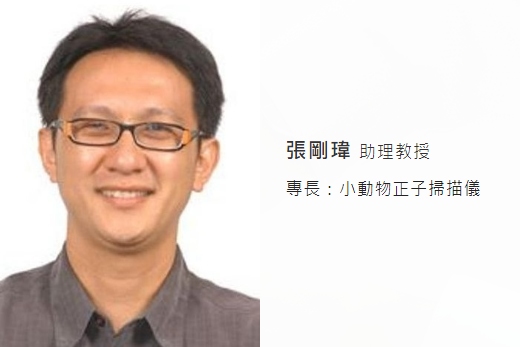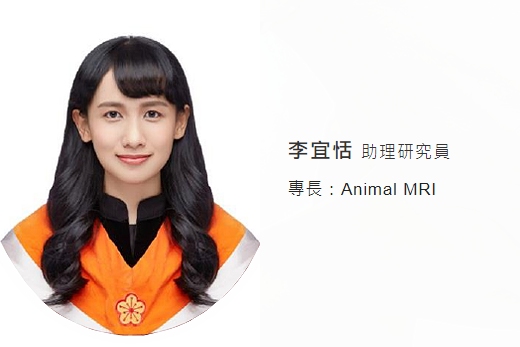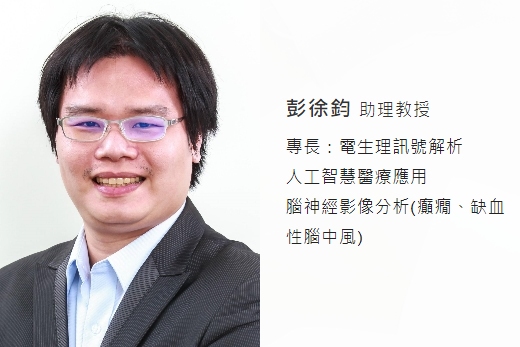 研究亮點
以神經疾病之轉譯影像研究為特色,結合中心成員之不同專長能力,成立五個核心實驗室: 奈米分子影像實驗室、7T動物影像實驗室、3T臨床腦功能影像實驗室、神經影像生物標記分析實驗室及正子磁振影像實驗室,以貫串轉譯影像研究從基因、細胞、動物至人體研究所需之不同層面。

研究目標: 整合北醫跨領域轉譯影像研究團隊,包括醫學工程、影像分析、奈米科技,人工智慧等,以建立高階影像設施、提供動物與人體影像研究諮詢、開發高階造影與分析技術、推廣影像醫學與培育人才,並進一步使用人工智慧發展精準醫學為目標。

未來規劃: 強化醫療人工智慧技術在精準影像醫學的運用,包括腦癌影像組學基因圖譜(Radiogenomics), 腦癌影像組學免疫基因圖譜(Radio-immuno-genomics)、輕微腦創傷神經與認知功能與影像連結體(connectome)的機器學習分析、急性腦中風缺血半影區深度學習預測模式、和腦失智神經功能生物標記研發等。預計結合跨領域團隊,執行國家型計畫以實際年度規劃,包括巨量影像計畫(將申請2.0計畫2020-2023)、科技部整合型計畫(正在執行2019-2022)和國家衛生院創新研究計畫執行(將完成2018-2020;新計畫2021-2023已申請),預計三年內完成具體研究績效。
研究成果
發表文章:
1.       Shyi-Jou Chen, Chih-Fen Hu, Chiung-Hsi Tien, Cheng-Yu Chen*. Sonographic Measurement of Brainstem Through the Foramen Magnum in Premature Neonates Can Predict Neurodevelopment Outcome? Front Neurol. 12:770908, Dec 2021.   
2.          Jun Tazoe, Chia-Feng Lu, Bao-Yu Hsieh, Cheng-Yu Chen*, Yu-Chieh Jill Kao*. Altered Diffusivity of the Subarachnoid Cisterns in the Rat Brain Following Neurological Disorders. Biomedical Journal. Jan 2022. S2319-4170(22)00006-3. doi: 10.1016/j.bj.2022.01.006. Online ahead of print   
3.          Yung-Chieh Chen, Yung-Li Chen, Duen-Pang Kuo, Yi-Tien Li*, Yung-Hsiao Chiang, Jyh-Jong Chang, Sung-Hui Tseng, Cheng-Yu Chen. Personalized Prediction of Postconcussive Working Memory Decline: A Feasibility Study. J Pers Med. 12(2):196, Jan 2022. doi:10.3390/jpm12020196   
4.          Liu YL, Tsai ML, Chen CI, Yar N, Tsai CW, Lee HL, Kuo CC, Ho WL, Hsieh KL, Tseng SH, Miser JS, Chang CY, Chang H, Huang WC, Wong TT, Wu ATH, Yen YC. Atypical Teratoid/Rhabdoid Tumor in Taiwan: A Nationwide, Population-Based Study. Cancers (Basel). 2022 Jan 28;14(3):668. doi: 10.3390/cancers14030668. PMID: 35158938; PMCID: PMC8833760.
5.          Ali M, Fulci G, Grigalavicius M, Pulli B, Li A, Wojtkiewicz GR, Wang C, Hsieh KL, Linnoila JJ, Theodossiou TA, Chen JW. Myeloperoxidase exerts anti-tumor activity in glioma after radiotherapy. Neoplasia. 2022 Apr;26:100779. doi: 10.1016/j.neo.2022.100779. Epub 2022 Mar 2. PMID: 35247801; PMCID: PMC8894277.   
6.          Chien TC, Chien MM, Liu TL, Chang H, Tsai ML, Tseng SH, Ho WL, Su YY, Lin HC, Lu JH, Chang CY, Hsieh KL, Wong TT, Miser JS, Liu YL. Adrenal Crisis Mimicking COVID-19 Encephalopathy in a Teenager with Craniopharyngioma. Children (Basel). 2022 Aug 17;9(8):1238. doi: 10.3390/children9081238.
7.          Trinh GM, Shao HC, Hsieh KL, Lee CY, Liu HW, Lai CW, Chou SY, Tsai PI, Chen KJ, Chang FC, Wu MH, Huang TJ. Detection of Lumbar Spondylolisthesis from X-ray Images Using Deep Learning Network. J Clin Med. 2022 Sep 16;11(18):5450.
8.          Adeel M, Lai CH, Lin BS, Chan WP, Liou JC, Wu CW, Peng CW*. Effects of Paired Stimulation with Specific Waveforms on Cortical and Spinal Plasticity in Subjects with a Chronic Spinal Cord Injury. Journal of the Formosan Medical Association 2022; S0929-6646(22)00097-3.
9.          Adeel M, Lin BS, Chen HC, Lai CH, Liou JC, Wu CW, Chan WP, Peng CW*. Motor Neuroplastic Effects of a Novel Paired Stimulation Technology in an Incomplete Spinal Cord Injury Animal Model. Iran J Med Sci 2022; 23, 9447.
10.      Mehta P*, Patel R, Bhadelia R, Chang YM, Brook A, Huang CWC, Manzoor K, Hacein-Bey L, Ivanovic V. Paraspinal soft tissue edema ratio: An accurate marker for early lumbar spine spondylodiscitis on an unenhanced MRI. Clinical Imaging 2022; 86: 38-42. (SCI)
11.      Chen CL, Kuo MC, Chen PY, Tung YH, Hsu YC, Huang CWC, Chan WP, Tseng WI*. Validation of neuroimaging-based brain age gap as a mediator between modifiable risk factors and cognition. Neurobiol Aging 2022; 114: 61-72. (SCI)
12.      Moss Y Zhao, Amanda Woodward, Audrey P Fan, Kevin T Chen, Yannan Yu, Chen DY, Michael E Moseley, Greg Zaharchuk. Reproducibility of cerebrovascular reactivity measurements: A systematic review of neuroimaging techniques. J Cereb Blood Flow Metab. 2022 May;42(5):700-717.
13.      Moss Y Zhao, Audrey P Fan, Chen DY, Yosuke Ishii, Mohammad Mehdi Khalighi, Michael Moseley, Gary K Steinberg, Greg Zaharchuk. Using arterial spin labeling to measure cerebrovascular reactivity in Moyamoya disease: Insights from simultaneous PET/MRI. J Cereb Blood Flow Metab. 2022 Aug;42(8):1493-1506.
14.      Lo CC, Liu WT, Lu YH, Wu D, Wu CD, Chen TC, Fang YT, Lo YC, Chen YY, Kang L, Tsai CY, Lee YL, Chuang KJ, Ho KF, Chang TY, Chuang HC. Air pollution associated with cognitive decline by the mediating effects of sleep cycle disruption and changes in brain structure in adults. Environ Sci Pollut Res Int. 2022 Mar 8. doi: 10.1007/s11356-022-19482-7.
15.      Hsu HM, Lu YH, Su I, Chan L.Number of Cerebral Microbleeds after Intracranial/Extracranial Stenting and Dual. J Chin Med Assoc. June 2022. 85(6):p 704-708.
16.      Luh HT, Yang ST, Lu YH, Lu YC, Chan JY, Tu YK, Su IC. Three-Dimensional Angioarchitecture of Rete Middle Cerebral Artery Anomalies and the Clinical Significance. Clin Neuroradiol. 2022 Sep 2. doi: 10.1007/s00062-022-01211-9.
以神經疾病之轉譯影像研究為特色,結合中心成員之不同專長能力,成立五個核心實驗室: 奈米分子影像實驗室、7T動物影像實驗室、3T臨床腦功能影像實驗室、神經影像生物標記分析實驗室及正子磁振影像實驗室,以貫串轉譯影像研究從基因、細胞、動物至人體研究所需之不同層面。

研究目標: 整合北醫跨領域轉譯影像研究團隊,包括醫學工程、影像分析、奈米科技,人工智慧等,以建立高階影像設施、提供動物與人體影像研究諮詢、開發高階造影與分析技術、推廣影像醫學與培育人才,並進一步使用人工智慧發展精準醫學為目標。

未來規劃: 強化醫療人工智慧技術在精準影像醫學的運用,包括腦癌影像組學基因圖譜(Radiogenomics), 腦癌影像組學免疫基因圖譜(Radio-immuno-genomics)、輕微腦創傷神經與認知功能與影像連結體(connectome)的機器學習分析、急性腦中風缺血半影區深度學習預測模式、和腦失智神經功能生物標記研發等。預計結合跨領域團隊,執行國家型計畫以實際年度規劃,包括巨量影像計畫(將申請2.0計畫2020-2023)、科技部整合型計畫(正在執行2019-2022)和國家衛生院創新研究計畫執行(將完成2018-2020;新計畫2021-2023已申請),預計三年內完成具體研究績效。